BETTER THAN EVER
INTEGRATED CAR PART PRO (IPRO) CONTINUES TO EVOLVE TO MEET YOUR NEEDS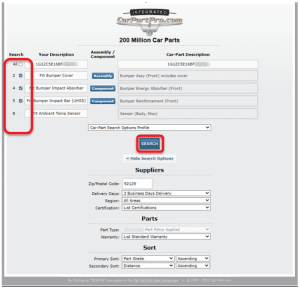 Backordered parts, no delivery, sound familiar? Integrated Car Part Pro (iPro) can help. The iPro marketplace continues to evolve to meet the collision repair industry's growing needs for alternative parts and with the current supply chain challenges this is important now more than ever.
Is your team struggling to source parts and get them when they need them? iPro's new automation features may be the solution. This article highlights some of iPro's newest features including automated part policy, assembly automation and expanded availability with a deeper Interchange catalog to help alleviate today's parts challenges.
ENHANCED PART POLICY SOLUTIONS
Introduced recently, iPro's part policy feature can ensure that the parts searched and selected meet your insurance company's guidelines and the new scorecard identifies claims with outstanding performance or additional opportunities. Parts that are not allowed (e.g., air bags, uncertified, etc.) are filtered out and cannot be searched, ideal for newer appraisers and shops that may not know which parts comply with which insurers guidelines.
How it works: The insurance policy is applied automatically if the policy is in iPro. The end user doesn't have to worry about selecting a part that isn't permitted by the policy. For example, some carriers may restrict parts for newer cars with less miles. Parts are customized based on the insurer's policy and the parameters set (e.g., A grade recycled front doors or CAPA certified front bumper reinforcements). iPro's part policy automated enhancement manages these guidelines.
Car-Part.com CEO Jeff Schroder says, "iPro enables users to easily search and select parts, working within partner insurer guidelines. This optimization streamlines workflow and enhances customization while maintaining the maximum supply chain results, and the new Car-Part scorecard highlights even more part opportunities."
MORE ASSEMBLY AUTOMATION
Going beyond the policy enhancements, iPro continues to enhance its assembly automation with additional functionality and more parts. A recycled assembly consists of multiple parts that are sold together as an assembly. Adding to the complexity, estimating systems are based on an OE component parts numbering system while the recycling industry is based on a recycled assembly Interchange so it can be challenging to source recycling parts. iPro helps fill this void by automatically matching the right components with their corresponding assemblies.
iPro has identified components on an estimate and mapped them to recycled replacement part assemblies for many years and now for even more assemblies. iPro's newest assembly automation features include front and rear bumpers, front and rear doors, front-end assemblies, headlights and hoods with more to come. The simplified workflow:
• Helps increase overall alternative part usage by automatically associating more assemblies with components (e.g., a front bumper will automatically associate a bumper cover, reinforcement bar and an impact absorber)
• Ensures parts are not duplicated on the final estimate, reducing part costs by not paying for components already included within the assembly. iPro's latest automation expedites the parts sourcing process with simple workflow optimization.
If you would like more information about iPro's latest features or to learn more about future enhancements, please contact 859-344-1925, visit Products.Car-Part.com or email ProTeam@Car-Part.com