COLLISION REPAIR TECHNOLOGY SPECIALISTS
WITH YOU EVERY STEP OF THE WAY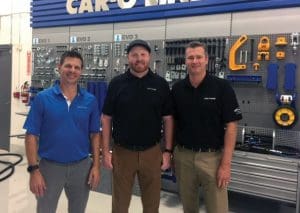 Flat Line SSI was founded in 2002 to fill a void in the market for serving paint spray booths. We started as 2 men in 2 trucks and have grown to be an industry leader with over 30 employees. We distribute Blowtherm, Car-O-Liner, Green-Tech, Betag, Euro-Vac, Colmet Spray Booths, Cartar Mobile Lifts, Canvas Mart, Top Ring, Camfil Filtration, Viledon Filteration. We have aligned ourselves with leading edge manufacturers in order to provide our customers with best products on the market. Couple that with our investment into our team to provide fast and reliable service for all products. We send our team to specific product training classes, jobsite safety courses, and customer service seminars.
Flat Line SSI can assist you from the smallest part required for your equipment all the way through to a complete shop design to meet your specific requirements. Every shop is different therefore every shop requires something a little bit different. We pride ourselves on finding and providing the best solution for your business, we don't just sell equipment. The equipment has to be right for your business. We have invested time and money to attended trade shows, seminars, and industry classes so we can be knowledgeable on what affects and effects our industry. Currently the leading conversation is OEM Approvals. We are excited that our Car-O-Liner and Blowtherm equipment meets or exceeds OEM Certifications. Our team is knowledgeable to discuss these options and how our equipment could help meet multiple OEM Certifications.
At our offices in Richmond Hill we have a full training centre where we run classes for the Car-O-Liner and Betag products. For Car-O-Liner we can offer training classes on 3D Measuring, how to properly clamp vehicles, and welding. These classes can be for experience technicians looking for a refresher or for your new employees to get them fully trained on the equipment in your shop. That way they are ready to go day 1 and completely efficient.
For Betag we offer classes that provide efficiencies in your business. We provide Estimator training; this class help estimators to identify the full scope of damage and prepare a complete estimate to reduce or eliminate supplements with insurance. There is a full 4- day course that provides the attending technicians with steel and aluminum repair techniques that are used to reduce time spent on these repairs and create more profit. There is training on the Betag Hot Box training for paint less dent repairs, and finally is the plastic welder training.
All these courses are offered in our training centre and are taught be qualified and trained instructors. As a company, we believe that providing training courses to our customers is as important as any piece of equipment you purchase. Flat Line's newest line is Green Tech. Green Tech is a gas catalytic drying system that expediates paint curing exponentially. This system can be retro-fitted into your current equipment or we can provide a complete shop design scenario and install it into a full production line system. The Green Tech System coupled with Blowtherm provide our clients with the highest production equipment available on the market, in addition the equipment quality far exceeds anything in market place today and meets all installation codes.
At Flat Line we are very proud and how far we have come in the last 10 years and we are so excited to be in this industry with some amazing customers who continually advance their businesses and keep us on our toes.