DON'T BE FUEL-ISH
THE DARK TRUTH ABOUT EV ADOPTION IN CANADA—AND POTENTIAL SOLUTIONS
By Max Reid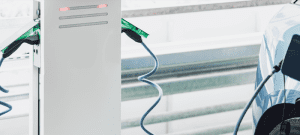 If you looked at Canada strictly from its federal stance on EVs, you could be forgiven for mistaking Toronto as the nation's capital.
As automakers and governments of all levels start implementing legislation to mandate the sales of EVs, as well as the curtailment of carbon emissions, our fellow Canadians outside of major urban centres have, and continue to express dissatisfaction toward plans that they feel don't take their daily reality into account. People in the prairies aren't any keener on environmental disaster than we are in the city. So, when they hear, "EVs are going to be mandatory soon, get in line. By the way, we still have no solution for cold weather charging," people are justifiably peeved. However, there is a flip side to that coin that warrants discussion.
Saskatchewan, for example, is still 40 percent reliant on coal and coke-based power, according to Canada Energy Regulator. Alberta's coal and coke usage currently sits at 43 percent. Were Saskatchewan and Alberta to be put on the same EV playing field as everyone else, it would contribute to, and worsen, an energy infrastructure that is simply incompatible with environmental sustainability.
Without the ability to close the loop on EVs, as both a clean method of travel for the individual and an effective platform upon which to cut larger-scale carbon emissions, the government has started the clock without making sure everyone is even at the starting line.
Luckily, we have people in our industry working hard to find ways to close that loop and develop technology that extends the good intention of the electric vehicle to the power grid at-large. The answer may lie in bi-directional charging.
Bi-directional charging is a reciprocal form of EV charging where, as a regular charging station transfers stored energy from the power source (i.e., house, gas station, etc.) to the vehicle, a bi-directional charging station can return stored energy back to the house, helping power the home while the vehicle is not being used. This technology puts power back into the hands of the consumer, almost literally, allowing them to directly contribute the energy stored in their vehicle to the powering of a home.
Of course, this is only a band-aid applied to the wider issue of getting these provinces off harmful energy sources, but that it is an issue to be solved by a different magazine. EVs are here to stay; that's just the truth of it. There have been just a few too many hurricanes, forest fires, oil spills and tainted water to be content with the status quo. Operating an EV infrastructure within a pre-existing natural gas-based framework is obviously less than ideal, but it will by no means stop the work either.
Nova Scotia, for example, despite a mix of available energy sources, derives 63 percent of its power from coal, and yet is also taking large strides toward establishing a robust EV infrastructure, having recently closed its charging loop, connecting the entire province to the charging grid. Tradition, legacy and ego aside, if Saskatchewan and Alberta can't get on board with clean energy some time soon, EVs will very likely never fulfill their purpose. There are issues with EVs and their handling of the extreme cold and long distances, but the work is being done and those issues are not unique to the West. If there is an anti-prairie conspiracy afoot, it hasn't been well hidden. The climate is in crisis and Canada demands clean energy.