THE AUTEL IA900
---
THE POWER OF ONE
THE SEPTEMBER DEADLINE FOR AUTOMAKERS TO HAVE CITY-SPEED AUTOMATIC EMERGENCY BRAKING (AEB) ON 95 PERCENT OF THEIR NEW VEHICLES IS LOOMING. TWELVE BRANDS—AUDI, BMW, FORD/LINCOLN, HONDA/ACURA, HYUNDAI/GENESIS, MAZDA, MERCEDES-BENZ, SUBARU, TESLA, TOYOTA/LEXUS, VOLKSWAGEN, AND VOLVO—HAVE ALREADY MET THAT VOLUNTARY GOAL.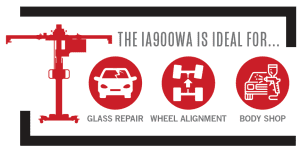 If the remaining eight brands meet the mark, more than 99 percent of all new vehicles sold in the United States will come with this proven life-saving feature that uses cameras, radar or a fusion of the two to "watch" traffic ahead and brake to avoid or lessen the damage of a crash. This in addition to the estimated 60 million vehicles on the road with some Advanced Driver Assistance System (ADAS).
The exponential growth in the number of vehicles with ADAS should act as a catalyst for shops that perform calibrations to develop a process or seek out solutions that enables them to perform all steps needed in the calibration process as efficiently as possible. Well, Autel was listening. Its Intelligent ADAS IA900WA frame system is the first in the industry to combine all of it into one adaptable, interactive, robotic, dynamic, streamlined system.
The IA900WA offers shops a true turnkey solution to precision ADAS calibrations by combining vehicle inspection, including tire tread analysis, four-wheel alignment, steering angle reset, and ADAS calibration with detailed instructions, illustrations, and a graphical adjustment analysis. The benefit of integrated four-wheel alignment into the system cannot be overstated as proper vehicle alignment is essential to the calibration of all ADAS components. The thrust angle, calculated in reference to the vehicle's rear axle, determines its direction as it travels down the road.
To see the IA900WA in action is quite extraordinary. The IA900WA features a folding crossbar and six in-frame high-resolution tracking cameras that automatically monitor vehicle height on the shop lift. Robotic frame movement allows for efficient use and alignment reading accuracy of 0.02 degrees.
Alignment coverage is for U.S., Asian and European vehicles, 1996 and newer, and the system guides the user through the complete process with illustrated alignment instructions, live readings, and required tools. Adjustment locations displayed on a mounted 24-inch touchscreen monitor mirror the alignment procedure executed on the MaxiSYS Ultra ADAS tablet giving the technician all the freedom he needs. ADAS calibration coverage includes camera targets and patterns and radar calibration components for equipped Mercedes, VW/Audi, Hyundai/Kia, Nissan/Infiniti, Honda/Acura, Mazda and Toyota/Lexus.
The IA900WA system is offered in several packages, including an all-systems ADAS package that includes targets, patterns, and calibration components to calibrate cameras (including those used in Around View Monitoring), radar, LIDAR, and night-vision units. A Lane Departure Warning (LDW) package is also available that includes targets and patterns needed to calibrate systems on equipped vehicles and Alignment-only packages. All packages are available with or without Ultra ADAS tablet.As vehicle manufacturers continue to share their safety systems throughout the entire lines, and more and more vehicles with these systems enter shops, solutions that provide technicians with a repeatable, efficient process to calibrate these input devices have become essential.