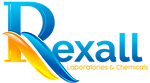 Rexall Laboratories and Chemicals is a proud, Canadian-owned corporation with more than a decade of experience in chemicals manufacturing and contract packaging.
The products manufactured and packaged by Rexall Labs are centered around a variety of chemicals that were developed through many years building industry knowledge. One of the things that sets Rexall apart is its application knowledge and ability to customize and innovate products and packaging to meet each individual customer's needs.
The company has served clients in Western Canada and the U.S. in past 15 years in custom blending, packaging, and private labeling solvents, salts, acids, and solutions. In past few years, Rexall Labs expanded its territory to Eastern Canada through the acquisition of a few companies in Ontario to better serve its clients.
Its commitment to providing high-performance products coupled with quick turnaround and excellent services at the right cost, makes the selection of Rexall Labs the right choice.
Working together in an inclusive, performance-driven environment, it earns its customers' business every day and its actions are driven by customer insights and helping them create value.
LOW VOC Reducers:   
For years, Rexall's R&D department have developed a general Basecoat reducer. This product has been tested with brands like PPG, Sherwin Williams, Valspar, Automotive Art Paint and more. They all come in Fast, Medium and Slow.
Urethane Basecoat Reducer:
Rexall's Urethane Basecoat Reducers (UBR) are economical, compliance reducers which offer low cost and phenomenal finish. It has been tested with all major brands.
Pre–Cleaners:
Wax and Grease Removers for the first step of your cleaning and Final Wash for your cleaning before applying paint.
General Cleaner:
Gunwash is one of the most popular economical all-purpose cleaners. Rexall Gunwash a virgin solvent which made from its line flush.
Premium Solvent Cleaner 4320 is known as Lacquer thinner which is specially formulated for cleaning Gunwash and tools with the scent of Almond to make the cleaning job more pleasant.
Premium Solvent Cleaner 7030 is a common thinner and cleaner with low odor and high strength.