RESOURCEFUL, SKILLED AND FOCUSED
RS FINISHING—PARTNER WITH A SUPPLIER YOU TRUST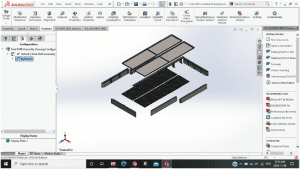 RS Finishing Systems, Inc is a leading Canadian supplier of custom Spraybooth Solutions and Associated equipment to commercial and industrial clients.
For the past 25 years, RS Finishing has provided equipment, consultation, engineering, installation, project management, turnkey solutions, preventative maintenance, technical troubleshooting and ongoing support to leading firms within Canada.
RS Finishing's success stems from its "Yes We Can" attitude, providing unique solutions rather than the catalogue style sales approach. With more than 100 years of collective industry experience and a family-run history, the RS Finishing team is there to help you grow.
"We make a point to find what the customer's end goal is—whether it be adding new technologies to entice new technicians or increasing their workflow—and help them get there," said Edward Bannister, president of RS Finishing.
The newest addition to the firm has been the introduction of full inhouse 3D design and fabrication equipment for your next project. This allows RS Finishing to bring your project from conception to realization, from the smallest replacement panel or part to a fully custom paint finishing system.
RS Finishing's fully stocked 743 sq. m. (8,000 sq. ft.) warehouse, located in Aurora, Ontario houses the company's vast inventory of filters, spare parts, stock and fabricating machinery.
When you partner with RS Finishing, you're choosing to partner with more than an equipment supplier. The company goes above and beyond to ensure that its clients not only receive top-notch product, but also to provide much-needed support.
RS Finishing distributes equipment for many of your collision repair needs, including: Unoliner frame and tooling, Reglo pneumatic safety axcess platforms, SATA, Devilbiss, Like 90, Pig industries, Airpipe, Freudenberg, Camfil, Rammstein air, and SAS.
Visit rsfinishing.com for more information.