HOW ASSURED AUTOMOTIVE GIVES STAFF LEAVE TO SUCCEED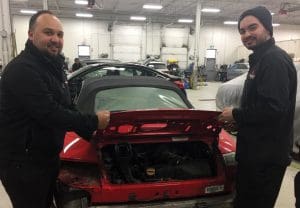 When it comes to fixing cars, automotive apprentice Jeffrey Furtado has never lacked motivation.
"When I was in elementary school I would go to my cousin's body shop to help take apart cars," said Furtado. "People used to be shocked by the speed I would work at—I would attack anything in my sight. For me it wasn't work, I was just out there having fun!"
After graduating high school, Furtado's first experience in a facility was as a detailer, before enrolling in a three-year auto body program at Mohawk College. With both practical shop experience and an automotive education behind him, Furtado was ready to take on the next chapter in his young automotive career. This chapter would lead Furtado to Assured Automotive in Meadowvale, a shop he is more than proud to be a part of.
"It's been a great pleasure to work with such an amazing team," said Furtado. "I've learned so much from the staff here, as they've given me the opportunity to work through problems and figure things out on my own. When they see that I'm struggling, that's when my colleagues step-in and show me a better way of approaching a problem."
Not only has Assured provided Furtado with the opportunity to learn in a staff-friendly environment, but also the chance to diversify his skills.
"To be a good body technician you need to be well-rounded," said Furtado. "No collision is the same and you must be able to adapt to the needs of each specific vehicle. Assured has given me the opportunity to learn the different facets of this industry in order to properly understand all the elements involved in a repair."
Jeffery is posed to write this final exam, once he does; he has aspirations to expand his knowledge and skill base.  His eyes are currently set on attaining Jaguar/Land Rover Certification, (JLR).  He currently works on mainstream vehicles and is exposed to various high end vehicles. With guidance from one of his mentors Walter Rostkowski, he is able to navigate through challenges he has not seen before and learn tricks of the trade which are not taught in class.  Furtado understands that to reach the skill level of his peers, on-going training and effort is required on his part, and Assured is supporting him in his skills development–as Derek Florczyk and Adrian Szalai work with him, as his skills development coaches.
 Personally, Furtado is the proud owner of a 1991 BMW 318is–which both he and his girlfriend enjoy.  When he first got it, his girlfriend asked if it would be "ready for the road" for her graduation, she did not think it was going to happen, but Jeffery worked on it and surprised her, when he went to pick her up in the car.  This car is one of the many ways which they incorporate their personal passions and career into their lives together, and Jeffery is grateful he has someone who appreciates his work, passion and pushes him to pursue his goals.
With so much still to learn, Furtado knows that the journey to becoming a certified Body Technician will not be an easy one, but one he is more than happy to be a part of. "The feeling I get seeing a customer happy with the final product is what motivates me to get better every day," said Furtado. "I'm grateful for Assured and how they helped me turn my hobby into a career."