SPANESI'S HISTORY OF EXCELLENCE
HALF-A-CENTURY OF PASSION AND INNOVATION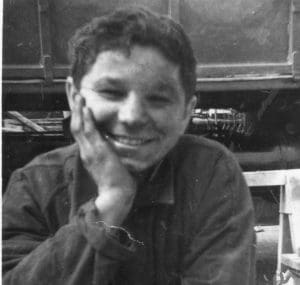 The week before Orazio Spanesi's 14th birthday, he was approached by a friend with exciting news. There was a job available. Orazio was enthusiastic because his family was very poor. So, he rushed over to meet with the business owner. During their conversation, he offered Orazio a job in a collision repair business and gave him a bicycle to use to get to work.
"In those years, when we spoke about cars, it was something very special. "I loved straightening cars," states Orazio Spanesi.
The bicycle was too tall. But that didn't stop Orazio. He learned how to ride the bicycle by putting one of his legs under the crossbar. He rode that bicycle to work over 11 miles each way to work for more than two years.
Orazio Opens His Own Facility
In the summertime of 1969, Orazio Spanesi opened his own collision repair facility in the village of Padova, Italy. Orazio used tools he created to repair his customer's vehicles.
"I knew immediately that I had the ability to create equipment," explained Orazio. "I never did it just for me, but I made it with the idea of selling it."
While Orazio designed and tested his tools in his own business, he was also curious about what the rest of the world had to offer. He began travelling and visiting the national and international tradeshows, looking for just the right answer to his efficiency needs. Along the way, Orazio came to the realization that those tools didn't exist, and the market was too slow to adapt to his business's needs.
Spanesi Is Born
Orazio took his passion, intuition and experience to the collision equipment manufacturing industry in 1989 which was when he founded his namesake business, Spanesi. The very first frame-straightening bench was manufactured in 1989, along with the Spanesi Universal Jig System. To this date, the original Universal Jig System is still sold and has only had to be updated to accommodate aluminum vehicles.

In 1992, Orazio's recognized there had to be a better way of measuring vehicles. So, he set out to show the world how to measure, repair and document damaged vehicles. Designed from the ground up, Spanesi produced their first Touch electronic measuring system—today being one of the most intuitive and accurate measurement systems available for the collision repair industry.
One Brand, Complete Focus
The OEMs, MSOs, franchise facilities and independents have all spoken and Spanesi is the choice for vehicle repair equipment around the globe. Spanesi's vast and deep array of equipment offerings are accepted by the majority of OEM repair programs today.
Spanesi is the only company to offer a complete Spanesi 360° Concept for the collision repair industry. From structural repair benches, three-dimensional electronic measuring systems, vacuum systems, prep stations, spray booths, MIG / MAG welders (aluminum, steel and silicon-bronze), squeeze-type resistant spot welders, office furnishings, paintless dent repair systems and facility design services, no other company comes close to the product offerings being delivered to collision repair businesses globally.
Even today, all of Spanesi's products are used in Orazio's collision repair facility, which is now surrounded by his legacy.