COLLISION REPAIR COMES TO THE NEW CAR DEALERSHIP SHOWROOM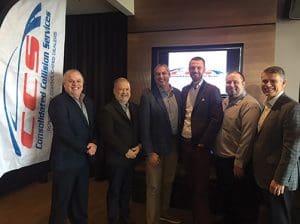 "Sometimes you have to look in the rear-view mirror just to realize how far you have come," says Sandy Liguori, President of CCS (Consolidated Collision Services) and Woodchester Collision Centre in Mississauga. Liguori has the unique vantage point of being both a new car dealer and someone who first began his career in the collision repair industry. Consequently, Liguori witnessed firsthand the numerous struggles and challenges among fellow dealership collision centres in the market.
"For years the challenge for dealer collision centres has been how to improve customer retention and profitability in an increasingly competitive marketplace, while delivering an OE Dealership level of customer experience," says Liguori.
Who would better understand what dealers want and need? Thus, the CCS network was born in 2013 to develop and deliver collision repair solutions and support services exclusively for new car dealers who want to grow their collision centres and compete on a national level.
With a distinct focus on enhancing customer retention, increasing shop performance, and cars to the door from insurance partners, CCS has been helping dealerships grow their collision business from the ground up. "The key to success is having your collision centre be top of mind with your customers before they are involved in a collision," says Mike Beier, CCS General Manager, "bringing the collision centre to the show room, and being the one-stop automotive destination for all of your customers".
Our members tell our story best—Chris Laking, owner and president of Laking Toyota, Northern Nissan and Imperial Collision in Sudbury, Ontario noted that "CCS has been a vital partner in the growth of our business. From providing management tools, to hosting meetings with like-minded repair shops, CCS is a key partner in the growth and evolution of our successful collision repair business. The ability to share ideas on how to run our business and not be directed, makes CCS a unique partnership".
Steve Billings, Director of Body Shop Operations for the Kaizen Group of Dealers in the Alberta market cited "As an original Alberta member joining CCS in 2015, the three Kaizen collision centres have experienced a steady increase in our insurance referrals. The CCS team with their industry knowledge are a great resource for my collision centre managers and front office staff, they share best practices that help my teams to be more productive."
Corrado Olindo, Collision Centre manager at Highland Chevrolet Cadillac in Aurora, Ontario says "In the past, we felt that as a dealer we had to chase business for our body shop.  Today, by implementing key CCS initiatives, Highland GM has elevated their game to compete not only at the dealership level but with the largest players in the industry while achieving record levels of customer retention, personnel development, and profitable growth."
 CCS presently has over 70 collision centres representing over 180 new car dealers throughout Ontario, Manitoba and Alberta with a combined annual collision revenue of more than $175 million. The networks members include some of the largest and most successful dealer collision centre operations in Canada.
CCS will be hosting its 2020 National Conference on April 7-8 in Niagara Falls. The two-day event will be held in conjunction with ACE (Automotive Conference and Exposition) the Consolidated Dealers and Trillium Auto Dealers Associations (TADA) annual convention.
Additional Conference information can be found at automotiveconferenceandexpo.ca.